Food & Beverage Processing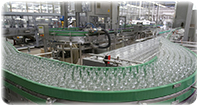 We make your audit a walk in the pest control park
If you process, package, or store food you are required to document your pest management programs, and pass frequent inspections. At Ronin, we know that audits mean a lot to your business.  Our Processor Protection Service gives you just what you need to not only meet, but surpass the food processing auditor requirements.  Companies like Silliker, NSF, Yum! Brands, and AIB International all know Ronin.  That's because we're pest control experts.
Our program includes all required aspects of protection including, but not limited to:
Onsite Reporting
Bar Coded Bait Stations
Document Reporting including inspection date, inspection time, content analysis and more. 
Your audit is important to you.  Your business is important to us. The right pest management adds to the success of your business. This is why at Ronin Pest Control is known by industry leaders in food processing to help meet recognized standards like BRC, IFS, SQF and GFSI.
Contact us Today for customized solutions in meeting your Processing Pest Management Needs. We offer a free consultation.