Termite Exterminator Long Beach
On certain evenings from June to September, for a few hours after sunset on nights Long Beach residents will often find termites flying around outdoor lights and sometimes even indoor lights, televisions and computer screens. The  "swarmers" look for mates at night. Many of these will likely become the founders of new colonies. Termites cause over $100 million in damage to structures in California alone each year, so homeowners should be vigilant about treating infestations as they are discovered.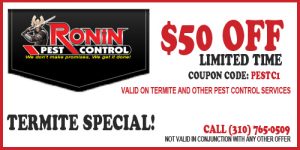 We provide full structural fumigations for commercial, industrial and residential occupancies. O-zone friendly "Sulfuryl fluoride" agents are use in our fumigations that are colorless and odorless. Our applications penetrate structures quickly and the entire fumigation process takes approximately 3 days. We continually stay in contact with our customers to ensure that all properties are secure and cared for properly.