Apartments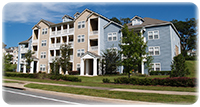 Advanced Long Beach Apartment Protection Program
We offer Multifaceted Pest Management Services
Attracting residents to your property and retaining them is a not an easy job. Then, once they are in you have to keep them happy. That's not easy either. But it means you have to get rid of even your smallest pest problems or your residents might seek accommodations elsewhere.  This is where we come in as Ronin Pest Control.
Bait Station Setup & Reports
An integral part of your apartment protection program, is ongoing reporting on bait station activity, achievements and content. Our Long Beach apartment protection program gives you information and tools to know what is going on in and around your apartment complexes. We document all of our services and check with your staff regularly to ensure your property maintains quality Long Beach pest management.
Your Residents Want to Know
Your residents do want to know the pest issues faced in the facilities. That's where we come in.  If you need materials to educate your residents on pest management we'll ensure you have all the education resources available that you need to help learn of the best practices in apartment complexes and how to avoid those that attract pests. Sharing resources with your residents makes sure they know what needs to be done to ensure fewer pest issues as well.
As a result of our personalized services, more property management companies turn to us for their pest control needs in Long Beach.
Contact Ronin's Long Beach Pest Control for Free Consultation for your Apartment Buildings!