Food Service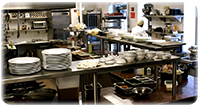 Food Service Pest Control Protection Program
Ronin Offers Tailored Pest Control Programs for Food Service Companies
Welcome to Ronin Pest Control!  Our FSPP (Food Service Protection Program) provides you with a well researched, and establishedd program geared directly to your Long Beach facility needs. We cater to what's needed and are not limited to:
Food Safety Inspections – part of our regular service
Perimeter Treatments –  barriers created that prevent pests from entering into your building
Refuse-area Treatments – odor and debris elimination to keep pests from being lured in
Flying Insect Control – we use odor control techniques, light & jar traps and monitoring devices
Education is Important
All our Long Beach employees are part of our program. We maintain continual training and require updated knowledge on all food safety recommendations and how it relates to pest management.
You depend on our staff to manage your pest control. Your staff is also part of the program.  We provide training to your staff and impart knowledge on food safety recommendations and how they relate to your pest management.
Give us a Call Now for a Free Consultation!