Office Building Pest Control Long Beach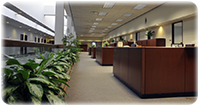 Office Building Pest Control
We offer Class 'A' Pest Control for Class 'A' Office Facilities
You're selective about your Long Beach occupants. You want to have occupants that add value to your establishment, not detract from it. The pest control company you choose to work must then be professional enough to add value too. That is what we do for you.
Having over 30 years of experience in pest control, more property owners, residents and facilities turn to us for pest control management. When you choose Ronin, you get more than pest control. You will get:
Reliable Service
Knowledgeable service providers who will meet your needs and understand your situation
Highly trained technicians who utilize the best industry practices
Our IPM (Integrated Pest Management) services exceed the GreenPro and LEED standards. This is the quality you can count on when you choose us. We guarantee superior quality, reliability, and consistency in our services.
Call Ronin for a Free Consultation Today!